Version Numbers
I use a very simple naming convention for version numbers. I also make it easy for me to add comments about each new version, and for the users to know what version they are using.
Here is the overall plan:
a label on the Main menu form to show the version number
a form to be used to update the version number and add a comment
a table to hold the version info
First the table, tblVersions. Here are the obvious fields that we need. (by the way, this table is stored in the "front end" in a proper frontend-backend setup so that the developer always has power over the newest entries)
text field (strVersion, size 11) to hold the version number (primary key as well)
memo field (memComments) to hold the comments
Here is a sample record from the table.
2004-11-13a
corrected a bug in the report menu system (the date criteria field was not becoming invisible when not needed)
Note that the primary key (version number) should be sorted in descending order so that the most recent modification shows first.
As you can see from the example, I like just using the release date for the version number. The purpose for the alphabetic character at the end is to allow for more than one version on a specific date. After all, I am not perfect and maybe 2 major bugs are discovered on that date!!!
Now, on to the form for adding new versions. I usually get lazy and make this form a simple "bound" form, complete with default navigation buttons. Since it is not meant for normal user interaction, this works fine.
The final step is to add a label on the Main Menu form that is used to activate the form. I usually put it in the bottom left corner of the form.
Call this label "lblVersion" and add a double click event for it. Here is the code:
NOTE: All the VBA code segments on the Database Lessons site assume that you have DAO references active. If you are not sure what this means, and you are using Microsoft Access 2000 or higher, click here.
Private Sub lblVersion_DblClick(Cancel As Integer)

DoCmd.OpenForm "frmVersions", , , , , acDialog

lblVersion.Caption = DMax("[strVersion]", "tblVersions")

End Sub

What was that scream I heard?
Yes, I admit, I have broken a rule; I used DMax. Like I said, I am lazy, and that table will NEVER be upscaled to SQL Server, etc.
I also add that line of code [lblVersion.Caption = DMax("[strVersion]", "tblVersions")] to the Open event of the Main Menu so that the user always sees the current version number. Now when my user calls about a problem I can ask them for their version number. If they are curious they can double click on the label and read the system's history!
the following is an advertisement for a new collection of Health and Wellness Information products being promoted by our sister site at www.nutritionlessons.com
.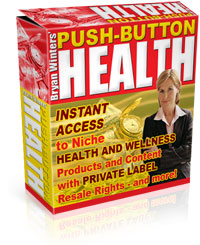 Are you ready to cash in on the multi-billion dollar
Health and Wellness industry? Let us handle the
research and hard work for you...

"How to Start Your Own Home-Based
Business, Or Boost Your Existing Business,
with Private Label Resale Rights to
Over $1,000 Worth of Freshly Written
Health and Fitness Products and
Content Each and Every Month"
Low Carb Dieting, Hair Loss Prevention,
Arthritis Relief, Muscle Building Secrets,
Sunless Tanning Guide, Healthy Dating Tips,
How to 'Spot Tone' Your Way to A Beautiful Body...
.
And more of the hottest Health and Fitness topics
for selling and distributing both online and off!
.
Happy Coding

Note: This web site dedicated to MS Access database users is an independent publication of Richard W. Killey and is not affiliated with, nor has it been authorized, sponsored, or otherwise approved by Microsoft® Corporation.